Unsurpassed Masters, Vol. 3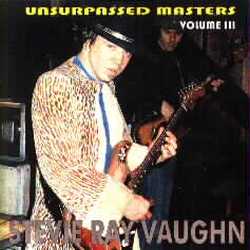 Unsurpassed Masters, Vol. 3 - no studio locations indicated
[Little Stevie, LS003] (1996) (65:33, 13 tracks)
All tracks are from the "Soul To Soul" sessions,
note on label says that these are "Touch The Sky" sessions
Take numbers are from liner notes and probably do not reflect actual studio take numbers.
01) Life Without You (6:10) (take 1, instrumental)
02) Life Without You (6:55) (take 2, instrumental)
03) Intros Outros (6:38)
04) Say What (3:29) "So Excited"
05) Boot Hill (3:05) (low down mix)
06) Say What (4:20) (variation of "Scuttle Buttin'")
07) Shake For Me (6:27) "May I Have A Talk With You"
08) Collins Shuffle (4:01)
09) Come On (4:58) (with vocals)
10) Come On (7:18) (intro, with vocals)
11) Give Me Back My Wig (0:48)
12) Little Wing/Life Without You (5:13)
"LWY" (false start) 0:00-0:35
"LWY" (take A) 0:35-2:36,
drum take 2:36-4:10,
"LWY" (take B) 4:10-5:13
13) Life Without You 6:01 (repeat of track #2)
Notes and Comments:
I was very disappointed on the way the info. was presented on the packaging. Rather misleading to say the least. They were entitled Stevie Ray Vaughan: Unsurpassed Masters Vol I, II and III. These CD's are nothing more than the SOUL TO SOUL outakes, which I already had. I can't remember what exactly was on the "Touch the Sky Sessions" but if my memory serves me correct, this was more SOUL TO SOUL outtakes as well.
"Unsurpassed Masters" are all studio recordings most likely from the "Soul To Soul" sessions, Mar-May 85. I wouldn't recommend these. The first discs has one second "gaps" during tracks 5,10,12,13. And Volumes 2 & 3 sound like a partial mix and are missing the vocals on most tracks.
back to the bootleg cd index