Triple Trouble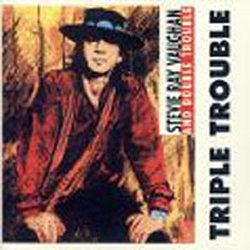 Triple Trouble - Live USA Tour,
[Archivio Records, ARC CD011] (Italy) (31:51, 6 tracks)
All tracks are probably from The Spectrum, Montreal, Canada.
Same songs as
"Testify"
01) Testify (3:57)
02) Voodoo Chile (11:29)
03) Mary Had A Little Lamb (3:15)
04) Couldn't Stand The Weather (4:42)
05) Cold Shot (3:59)
06) Pride And Joy (4:29)
Notes and Comments:
Stevie Ray Vaughan, "Triple Trouble", with Albert King and Buddy Guy. Three of the best bluesmen ever, ripping into the blues like the world is fixin' to end. It don't get no better than this.
I think the quality is great !
back to the bootleg cd index