There's More Rock Ahead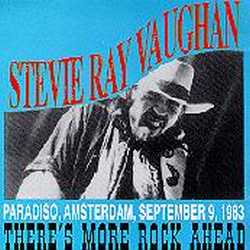 There's More Rock Ahead - Paradiso Theater, Amsterdam,
[Rockland, ROLA 008] (70:33, 11 tracks)
Incomplete, missing "Voodoo Chile" found on
From Austin To Amsterdam
Includes "see through" sticker insert labeled with"Stevie Ray Vaughan" plus the CD title, great sound quality
01) Pretty Guy Shuffle (4:34) "So Excited"
02) Tell Me (3:25)
03) Mary Had A Little Lamb (3:37)
04) Texas Flood (11:29)
05) Love Struck Baby (3:36)
06) You'll Be Mine (4:42)
07) Pride And Joy (4:20)
08) Little Wing / Third Stone From The Sun (17:00)
09) Lenny (8:50)
10) Rude Mood (4:10)
11) Testify (4:50)
Notes and Comments:
It is (despite some flaws) quite impressive!
First, the flaws: The sound is generally superb but there is an inconsistent "ticking" type distortion effect (that's my best attempt to describe it) throughout the CD. (It's worse on some songs than others.) Also, there are two odd distortions early on Track 11 ("Testify"). Despite this, the only other 1983 shows on CD that have better sound are probably El Mocambo and In Memoriam.
There are some edits between songs and at least one song is missing.
About the performance: Stevie plays very well throughout, and sometimes reaches superb heights. The highlights (much like all 1983 shows) are an intense, soul-wrenching version of "Texas Flood" (10+ minutes), a wonderful "Little Wing" (7+ minutes) and a sublime version of "Lenny" (8+ minutes). Beautiful stuff. But add to that great versions of "So Excited," "You'll Be Mine" and a wild version of "Testify." ("Third Stone" also has some great moments and is considerably better than the El Mocambo version of this tune.)
This CD was never on my must-have list, so I didn't know what to expect. All I can say in conclusion is that it SHOULD have been on my must-have list!
back to the bootleg cd index