Texas Lightning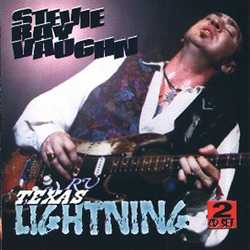 Texas Lightning - The Oriental Theater, Milwaukee, WI,
[Dedicated 2 Perfection, #D2P 010, 2CD] (Taiwan, 1996)
tracks 6-10 of disc 2 are from the official "Live Alive" release
CD 1: (72:43, 9 tracks) CD 2: (68:40, 10 tracks)
CD 1)
01) Scuttle Buttin'/ Say What (9:52) ("SB"=3:40, "SW"=6:12)
02) Ain't Gone'n'Give Up On Love (11:46)
03) Change It (7:07)
04) Voodoo Chillie (Slight Return) (9:39) "Voodoo Chile (SR)"
05) Mary Had A Little Lamb (6:38)
06) The Things (That) I Used To Do (6:16)
07) Cold Shot (7:29)
08) Unreleased Song (8:03) "Couldn't Stand The Weather"
09) Pride And Joy (5:51)
CD 2)
01) Texas Flood (6:29) "May I Have A Talk With You"
02) Love Struck Baby (4:22)
03) Unreleased Song (18:35) "Life Without You"
04) Look At Little Sister (5:24)
05) Let The Good Times Roll (5:42) "Come On (Part III)"
06) Mary Had A Little Lamb (4:23)
07) Superstition (4:33)
08) Willie The Pimp (4:32) "Willie The Wimp"
09) Voodoo Chillie (Slight Return) (9:34) "Voodoo Chile (SR)"
10) Change It (5:04)
Notes and Comments:
One of the best versions I've heard of Ain't Gone'n'Give Up on Love is an excellent 12 minute live performance on Texas Lightning. The vocals aren't very loud, but Stevie's guitar playin' is excellent and it comes through loud and clear.
Texas Lightning is a rocking performance... they made some recordings for LiveAlive from this venue but a different night. Too bad, these performances are much better (energy/excitment) than the ones on the Live Alive album.
When I first grabbed the Oriental Theatre show, I thought it was quite good...but the more I listened to it, the more I began to dislike it: Stevie is sloppy, he's all over the place, though there are still moments where the heart and soul of his playing shines through the fog of his substance abuse.
Texas Lightening is outstanding.
back to the bootleg cd index