Testimony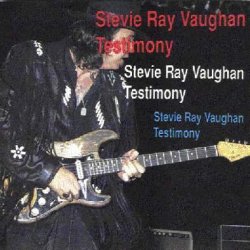 Testimony - Montreal,
[Red Robin Records, 06] (74:01, 15 tracks)
Montreal - (tracks 1-6), Montreux - (track 7), Dallas - (tracks 8-15)
Incorrectly labeled as having tracks from Syracuse, 1984.
The Montreal tracks are King Biscuit Flower Hour material.
Tracks 13-15 have Jimmie Vaughan on six-string bass.
01) Testify (4:00)
02) Voodoo Chile (11:48)
03) Mary Had A Little Lamb (3:18)
04) Couldn't Stand The Weather (4:51)
05) Cold Shot (4:01)
06) Pride And Joy (4:34)
07) Texas Flood (10:28)
08) Lookin' Out The Window (2:18)
09) Little Sister (4:11) "Look At Little Sister"
10) It's Time That I Go (4:27) "Change It"
11) Let The Good Times Roll (4:29) "Come On (Part III)"
12) Superstitious (4:39) "Superstition"
13) Love Struck Baby (2:54)
14) Blues (3:32) "Wham"
15) Get High (4:29) "Thunderbird"
Notes and Comments:
Information about
buying radio shows
.
Incorrectly listed as having tracks from Syracuse, 1984. The Montreal tracks are King Biscuit Flower Hour material. The Dallas tracks may have Jimmie Vaughan on bass.
The King Biscuit Flower Hour [DIR Radio Network] was a syndicated radio show that specialized in live performance broadcasts. The "KBFH material" notation on the boot list means "Excellent to superb quality multi-track recordings" of some of Stevie's finest performances.
To date, the main problem with "KBFH" broadcast discs [and their boot CD copies] is that they include only a few songs from each performance. To make matters worse, DIR reissued the same show many times, all with the same track list. There are only two versions of SRV "KBFH" shows. Now the good news!!! The good folks at Swingin' Pig Records, in their infinite wisdom, have released "In Memoriam" [TSP-CD-205-1,2,3, 3 CD set]. "IM" contains the complete, unedited "KBFH" recordings, including the tracks that were not broadcast on "KBFH." To my ears, this set is without a doubt, some of Stevie's finest moments, both in performance and audio quality.
back to the bootleg cd index