Stilleto Rain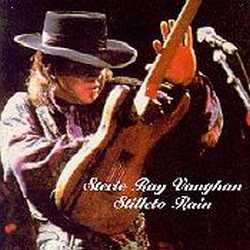 Stilleto Rain - Red Rocks Amphitheater, Denver, CO,
[Primadonna, PD109] (73:46, 9 tracks)
This recording sounds like an offhand board mix, good quality
The CD incorrectly lists the show as 17-Jun-85
01) Ain't Giving Up On Love (7:40) "Ain't Gone'n'Give Up On Love"
02) Pride And Joy (5:09)
03) Voodoo Child (12:40) "Voodoo Chile (Slight Return)"
04) Tin Pan Alley (12:01)
05) Little Sister (4:09) "Look at Little Sister"
06) Flooding Down In Texas (9:21) "Texas Flood"
07) Come On (6:30) "Come On (Part III)"
08) Little Wing (7:44)
09) 3 Stones From the Sun (8:29) "Third Stone From the Sun"
Notes and Comments:
The 6/19/85 Red Rocks show is definately a good one to start with.
Highlight of the show is "Little Wing." This show was recorded when Stevie was in his heaviest drug-using days. In "Little Wing" it sounds like he is in so much pain and is calling out for help through his guitar. Very emotional.That track makes the CD worth buying alone. Voodoo is strong also.
There are moments where Stevie is superb, like "Little Wing."
I've only listened to "Stilleto" so far in my truck to & from work. I'm having a hard time taking it out to listen to the other one. I love this version of Texas Flood with the keyboards of Reese & the slower tempo. It is my favorite of the week.
back to the bootleg cd index