Stevie Played A Little Blues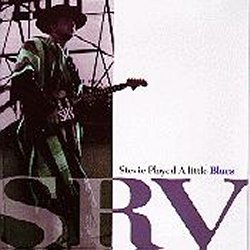 Stevie Played A Little Blues - Montreux Jazz Festival and Chicago Blues Festival
Montreux show same as
Live In Montreux
,
Pride And Joy
More complete Chicago show on
Burnin' Strings
,
Chicago Blues Festival
,
Pride And Joy
[Chase The Dragon, CTD 004] (Germany, 1995) (72:33, 11 tracks)
Montreux - (tracks 1-7), Chicago - (tracks 8-11)
Montreux tracks same as "Live In Montreux" and "Pride And Joy"
01) Ain't Gone'n'Give Up On Love (8:30)
02) Pride And Joy (5:11)
03) Mary Had A Little Lamb (4:14)
04) Cold Shot (5:39)
05) Don't Stop By The Creek Son (4:26) (Johnny Copeland on lead vocal)
06) Tin Pan Alley (14:18) (SRV & Johnny trade vocals)
07) Look At Little Sister (8:04)
08) Testify (2:26)
09) Say What (5:12)
10) Voodoo Chile (Slight Return) (7:29)
11) Come On (7:04) "Come On (Part III)"
Notes and Comments:
It's got 7 songs from Montreux and 5 from Chicago Blues Fest. His 'Tin Pan' duet with Johnny Copeland is fantastic. I highly recommend it. There is also a song on it called 'Don't Stop by the Creek, Son.' This sounds like a weird title for a blues song. Perhaps it was written by Albert Collins because Stevie's solo sounds very Collinsish. Definite tip of the hat.
back to the bootleg cd index