See You Later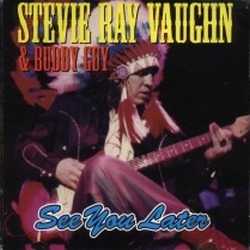 See You Later - Legends Club, Chicago, & Tennis Rock Expo, New York City, NY,
[All Of Us, AS43] (67:07, 6 tracks)
Legends Club, Buddy's band withSRV (tracks 1-4)
Tennis Rock Expo, SRV/DT withBuddy (tracks 5-6)
Chicago tracks are same as those on
Birthday Jam
and
It's Still Called The Blues
The Rock Expo tracks can also be found on:
02) Champagne And Reefer (25:44)
03) Mary Had A Little Lamb (8:31)
04) Leave My Little Girl Alone / Worry, Worry (19:00)
05) Stormy Monday (7:18)
06) Mary Had A Little Lamb (3:08)
Notes and Comments:
I was lucky enough to get my hands of SEE YOU LATER yesterday. I just finished listening for the third or fourth time and reading the liner notes. I wanted to quote from Stevie regarding someone who did "it" for him. Regarding Buddy Guy he states, "It's kind of hard to forget the first time I heard Buddy Guy. I like everything I've heard by Buddy Guy, to tell you the truth. And I always have. He just sounded so real as opposed to a lot of the other sh** I heard on the radio." He then goes on to say, "to come in and see somebody like Buddy Guy or Otis Rush, it's like they shake you. All they have to do is look at you. You hear somebody, and it shakes your soul." Great CD by the way. Sounds like they were having sooooo much fun!
back to the bootleg cd index