Seattle Jammin'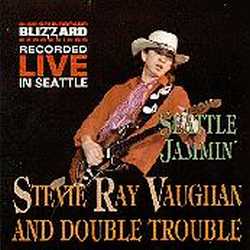 Seattle Jammin' - Seattle Center Coliseum, Seattle, WA,
[Blizzard Pure Soundboard Recordings, BLZD 110] (74:11, 13 tracks)
Incomplete, missing "Testify"
same date as:
Duets
,
Parker's Place
,
Texas Flood
,
Together In Love
01) Soul To Soul (7:50) "Scuttle Buttin'"/"Say What"
02) Look At Little Sister (5:25) "Lookin' Out the Window"/
03) Giving Up On Love (7:40) "Ain't Gone'n'Give Up On Love"
04) Blindspot (4:46) "Change It"
05) Will You Be Mine (3:52) "You'll Be Mine"
06) Empty Arms (3:19)
07) Let The Good Times Roll (5:29) "Come On (Part III)
08) Cold Shot (5:59)
09) Couldn't Stand The Weather (7:01)
10) Live Another Day (8:39) "Life Without You"
11) Pride And Joy (5:23)
12) Instrumental Jam (1:56) (Introducing Bonnie Raitt)
13) Muddy Water (6:50) "Texas Flood" (with Bonnie Raitt)
Notes and Comments:
Parker's Place recorded off of the soundboard. Basically, he plays all the songs that are on Soul to Soul.
The main highlight is the final song, Texas Flood, with Bonnie Raitt. She adds tasteful licks on the slide at all the right places. She's been a friend of SRV's since his days back in Austin before he even really got a following
It's the 9/1/85 show in Parker Arena. They say it's a soundboard recording but it appears it may be an FM broadcast of a SB recording. Anyway, the quality is quite good. Bonnie Rait plays slide on Texas Flood.
back to the bootleg cd index