Scuttle Buttin' '75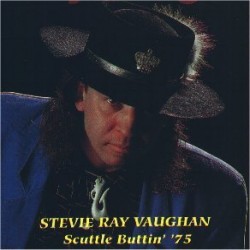 Scuttle Buttin' '75 - Shiba Yubinchukin Hall, Tokyo, Japan
[Prequest, PRE 161] (71:08, 10 tracks)
Title erroneously implies a 1975 show, inferior sound quality
Same date as
Blues For Japan
,
Cold Shot
,
Live In Japan
,
Tokyo '85
01) Scuttle Buttin' (2:44)
02) Say What (5:07)
03) Voodoo Chile (15:08)
04) Cold Shot (4:39)
05) Couldn't Stand The Weather (5:52)
06) Tin Pan Alley (13:11)
07) Mary Had A Little Lamb (3:32)
08) Love Struck Baby (3:23)
09) Texas Flood (11:37)
10) Lenny (6:57)
Notes and Comments:
Last Farewell, One of the Last, Scuttle Buttin, and every other boot CD I've seen claiming to be either the last show or Austin, May 4 1990 are ALL THE SAME SHOW. They are all a combination of the Tingley Arena and Denver McNichols arena shows. These shows took place one day apart. Parts of each were broadcast together as if one show by the Westwood One radio show. There are tapes out there of the last show, the Tingley show and the Denver show. These CD's are ALL copies of this radio broadcast.
At least 3 boots, and probably more, incorrectly identify the Colorado/New Mexico show as Auditorium Shores, so there has been confusion over this show.
On the different boot CD's of the C/NM show, there are different tracks. Each omits one and has another and/or print the set list in different order so that the discs do not appear to be the same show, but they are. Scuttle Buttin', Last Farewell, and Let me Love You Baby are examples.
When the Colorado/New Mexico boots came out, there were posts that implied these were complete soundboard recordings of both shows. However (correct me if I am wrong) they were not. I had the set lists emailed to me and they were the same old C/NM combination. The New Mexico show was quite long and would take 2 CDs by itself. The Colorado show was not as long, but still would not fit on a single CD. The audience recordings of both shows are not outstanding. So, any quality recording is likely to be from one of these boots or the original Westwood?) fm broadcast.
back to the bootleg cd index