Rarities In Concert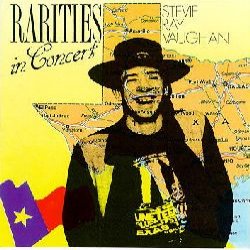 Rarities In Concert - various locations, 1983-1988
[Beech Marten, 013] (Italy) (77:30, 14 tracks)
El Mocambo (tracks 2-7)
Montreal (tracks 12-14)
01) Testify (3:31)
02) Testify (3:53)
03) Pride And Joy (4:55)
04) Texas Flood (10:10)
05) Little Wing (8:20)
06) Third Stone From The Sun (4:12)
07) Trouble (3:51) "Tell Me"
08) Voodoo Chile (11:36)
09) Mary Had A Little Lamb (3:25)
10) Couldn't Stand The Weather (4:56)
11) I'm Crying (4:06) "Cold Shot"
12) Say What (4:46)
13) Superstition (4:31)
14) Willie The Wimp (5:16)
Notes and Comments:
The (sound) quality is very good.. The playing! What great concerts! Subtle, jazzy sometimes, excellent! Pure fun to listen to.
That was taped in Italy. He leaves the fretboard smokin' on that one!!
Man, I've gotta agree with you on that particular version of Mary Had A Little Lamb. It's definitely one of my favorites! It starts out with a long introductory solo (a couple of minutes)...then Stevie sings for about 30 seconds, then comes back with a smokin' solo that really kicks!! Not only some incredible pickin' but also some incredible rhythm playing (with Reese on a smoking keyboard accompaniment). This goes on for another two and a half minutes. Then Stevie sings for about 15 seconds, followed by a final solo, where he slows it down a bit and plays a couple of incredibly sustained notes. Then he speeds it up again to a breakneck pace...followed by a big OWWWW!! at the end. This version is full of great solos. There's about 45 seconds of singin' and about 5 minutes of guitar virtuosity.
back to the bootleg cd index