Pride And Joy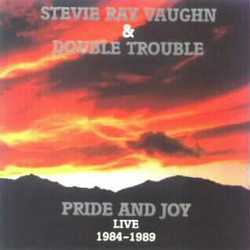 Pride And Joy - Live 1984-1989, no venue info
[Three Cool Cats, TCC 007/008] (1990) (2CD)
CD 1: (24:23, 7 tracks)
Tracks 1-4 are probably from The Spectrum, Montreal, Canada
"Timothy White's Rock Stars", NY, (tracks 5-7)
01) Testify (4:20)
02) Mary Had A Little Lamb (3:19)
03) Couldn't Stand The Weather (4:56)
04) Pride And Joy (4:41)
05) Ain't Gonna Give Up On Love (1:19) "Ain't Gone'n'Give Up On Love
06) Scuttlebuttin' (1:54) "Scuttle Buttin'"
07) Dirty Pool (3:54)
CD 2: (62:53, 10 tracks)
Tingley Coliseum, Albuquerque, (tracks 1-5)
McNichols Arena, Denver, (tracks 6-10)
01) House Is A Rockin' (2:45) "The House Is Rockin'"
02) Tight Rope (5:17) "Tightrope"
03) Little Sister (5:24) "Look At Little Sister"
04) Let Me Love You (3:48) "Let Me Love You Baby"
05) Texas Flood (7:11)
06) Riviera Paradise (10:31)
07) Superstition (4:56)
08) Cold Shot (7:03)
09) Crossfire (4:08)
10) Voodoo Chile (11:50)
Notes and Comments:
Important information about
Colorado/New Mexico concerts
and the supposed Auditorium Shores concert.
I picked up the Pride and Joy (live) CD (the Three Cool Cats version). Does anyone know the origin of these recordings? It just says 1984-1989. There are three cuts I'm particularly interested in: it sounds like a radio interview where he is playing alone (electric) and singing -- I was totally blown away!!! I couldn't believe how much was happening without the "distraction" of the bass and drums. I was also completely blown away by the quality of his voice. He played a short version of "Ain't Gonna Give Up On Love" (during which he stops and says how happy he is to be playing Albert Collins stuff in 1989), "Scuttlebuttin'" and "Dirty Pool."
I just got the full version of The Timothy White Interview with SRV in 1989 and he says that during the interview. [It's] about an hour long with commercials cut out. It is amazing!
back to the bootleg cd index