Peace In The Valley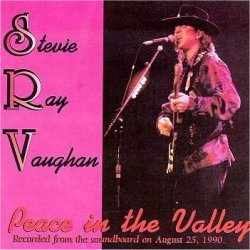 Peace In The Valley - Alpine Valley, East Troy, WI
[NORIAA Records, SR-3582] (1997) (60:12, 11 tracks)
Very good sound quality, soundboard source.
Note: this material is from the day prior to Stevie's final performance.
Available with two different CD covers.
01) Tightrope (3:56) (fades in)
02) The Things (That) I Used To Do (4:44)
03) Let Me Love You Baby (3:05)
04) Leave My Little Girl Alone (4:41)
05) Little Sister (4:12) "Look At Little Sister"
06) Wall Of Denial (5:53)
07) Riviera Paradise (8:17)
08) Superstition (5:17)
09) Going Down (6:53) "Couldn't Stand The Weather"/ "Going Down" (cut)
10) Crossfire (4:31)
11) Voodoo Chile (8:39)
Notes and Comments:
I had the opportunity to listen to this disc about a month ago and the sound quality is very good. I think there were one or two tracks which seemed to fade in late or fade out too early but overall I think everything else was excellent. Remember now, the material on this disc is from the day prior to Stevie's last performance with DT. It's too bad the material that has appeared from the final show doesn't sound as good as the stuff on this disc.
Very good sound quality, possibly from a soundboard source. Note: this material is from the day prior to Stevie's final performance. The same title, available with different covers, in both CDR and "silver disc" format, all with excellent audio quality and graphics.
Note that Tightrope (track 1) begins during Stevie's solo...The Couldn't Stand the Weather segue to Going Down is awesome. Disappointingly, GD is summarily cut mid-song...The final bars of Voodoo Chile are unlike any I've heard before...a real tour de force.
IMHO the sound quality is suberd (sic ??) to the others in my collection (especially compared to the Alpine Valley 8-26-90 show). Now is it as good as quality to Sacred Sources CD. I don't know. I don't have that particular CD. It probably be of better quality than the boot. Why? The SS CD more than likely would have gone through a mixdown where PITV lacks that. But the overall quality of the show is great. Everthing is clear and manageable to listen to. The music is more clear than the audience, as in most boots I have heard. But I recall in a discussion here on the flood that RP on SS came from the last show, in which the last show will fail by commparison to the SS CD.
Recorded the day prior to Stevie's death. Possibly sound board source. One or two songs may fade in late or fade out early but other than that a good thing to have! The sound quality is a LOT better than the 26th show I have. More importantly, the show rocks (as does the 26th).
One of my favorite shows (even though Tightrope starts during Stevie's solo and Going Down is cut off abruptly in the middle.) The segue from Couldn"t Stand the Weather to GD is amazing; Riviera Paradise is sublime; Voodoo Chile is unreal.
I like this recording a lot this is the concert he did the night before the last show and there are smokin versions of Voodoo Chile and Goin Down.
I have seen another set of artwork associated with the Alpine Valley concert, which is better than the two better known covers/inserts.
back to the bootleg cd index