One Of The Last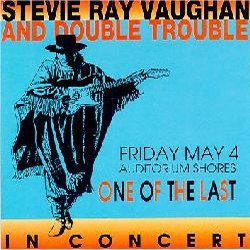 One Of The Last - Albuquerque, NM
[Beech Marten, BM 007] (Italy, 1991) (74:22, 12 tracks)
Tingley Coliseum, Albuquerque, NM (tracks 1-6,8)
McNichols Arena, Denver, CO (tracks 7,9-12)
Incorrectly listed as recorded at Auditorium Shores, Austin, 4-May-90
Excellent sound quality, see
Colorado & New Mexico
for complete show.
01) House Is A-Rockin' (2:45) "The House Is Rockin'"
02) Tightrope (5:38)
03) Little Sister (5:49) "Look At Little Sister"
04) Let Me Love You (3:11) "Let Me Love You Baby"
05) Texas Flood (7:17)
06) Leave My Little Girl Alone (6:10)
07) Riviera Paradise (10:20)
08) Wall Of Denial (5:46)
09) Superstition (4:56)
10) Cold Shot (6:51)
11) Crossfire (4:01)
12) Voodoo Chile (11:38)
Notes and Comments:
Important information about
Colorado/New Mexico concerts
and the supposed Auditorium Shores concert.
Information about
buying radio shows
.
Same as "Let Me Love You Baby" and "Crossfire"; same as "Colorado & New Mexico" minus Willie the Wimp, and Life Without You
Last Farewell, One of the Last, Scuttle Buttin, and every other boot CD I've seen claiming to be either the last show or Austin, May 4 1990 are ALL THE SAME SHOW. They are all a combination of the Tingley Arena and Denver McNichols arena shows. These shows took place one day apart. Parts of each were broadcast together as if one show by the Westwood One radio show. There are tapes out there of the last show, the Tingley show and the Denver show. These CD's are ALL copies of this radio broadcast.
Must haves in one version or another.
Good quality soundboard recording
excellent sound quality.
Says it's a live performance, May 4, '90, at Auditorium Shores, Austin, TX. I haven't listened to it completely, just test-sampled it at the music store. Seemed to be good quality sound but liner doesn't give any details, if recorded from a soundboard, etc.
NOTE: This is one of those mislabelled CDs. It is actually a mix of the Westwood One Radio concerts from Colorado/New Mexico, late November 1989.
SRV plays Voodoo Chile so full of fire, soul and intensity it is totally amazing. I have about 40 bootlegs in all and I have to admit this is the best version of the song I have ever heard. Being a guitarist myself I know how tough it is to pull of sheer creativity. I just wanted you people to know that if anyone wants to get a good CD with Voodoo Child on it this is the one
back to the bootleg cd index