Music Hall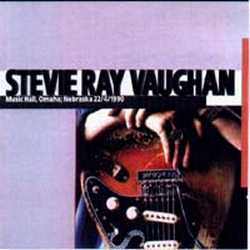 Music Hall - Omaha, NE
[Unbelievable Music, UM 042/43] (1993) (2CD)
Average audience recording, clear vocals, guitar, & drums, muddy bass
CD 1: (74:32, 10 tracks)
Omaha, NE
01) Opening Jam (4:22) "Collins Shuffle"
02) Instrumental (6:49) "In The Open"
03) Pride And Joy (4:59)
04) Texas Flood (11:10)
05) Tightrope (5:58)
06) Wall Of Denial (6:30)
07) Tin Pan Alley (14:53)
08) Mary Had A Little Lamb (7:42)
09) Leave My Little Girl Alone (6:24)
10) Superstition (5:45)
CD 2: (72:17, 10 tracks)
Omaha, NE, (tracks 1-6)
Hiotfin Festival, Milan, Italy (tracks 7-10)
01) Cold Shot (8:20)
02) Couldn't Stand The Weather (4:15)
03) Life Without You (14:20)
04) The House Is A 'Rockin' (4:00) "The House Is Rockin'"
05) Crossfire (4:20)
06) Voodoo Chile (12:45)
07) Ain't Gonna Give Up On Love (8:54) "Ain't Gone'n'Give Up On Love"
08) Tell Me (3:53)
09) Willie The Whimp (6:20) "Willie The Wimp"
10) Cold Shot (5:10)
Notes and Comments:
below average audience recording
It's very listenable but a little distant sounding. Unlike a lot of audience recordings, it does not suffer from high levels of audience noise. There is a noticable improvement in sound quality on the last 4 tracks of disc 2. I'm not sure all tracks on both discs are from the venue and date listed.
Each disc has 10 tracks and run 74 and 72 minutes. Some would say it's well worth $55, others would say it's not worth $5. There are certainly other CD's available from the same time period that have far better sound quality.
I have heard the CD and I agree with some. It sounds bad. But.....the performance is regarded by many as his best. There are alot of good shows he performed, but this one is awsome.
Another classic. This show is considered by many as the all-time SRV show. A fantastic, powerful, fun show. Great playing. Every song is a killer. Every note makes you get goosebumps all over. Stevie was in a fantastic form. Highly reccomended. Available on CD, but the downside is: sound is below average on the CD, I reccomend it anyway. Tapes are circulating with better sound, (same recording, but closer to the master tape).
I'm listening to this show right now, and I'm thinking it's one of the best one's I've heard so far. Finally I have a live version of Tin Pan Alley from the "after" period. I think the show is SOOO good that everyone should have a copy.
"Little Wing" on "Hawk On Fire" isn't the version Stevie originally performed at El Mocambo. The version is from 10-20-83 Ripley's Music Hall ! As far as I know, the only boot known that contains Stevie's "Little Wing" from El Mocambo is "Accolades".
back to the bootleg cd index