Montreal '89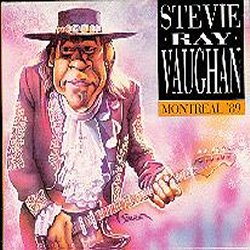 Montreal '89 - Montreal Spectrum
[Tuff Bites, TB 94.1001] (Germany) (40:08, 7 tracks)
Incorrectly labeled as having been recorded in 1989.
King Biscuit Flower Hour material
Same as
Montreal 1989
and
Somewhere Over The Rainbow
01) Scuttle Buttin' (4:40) "Say What"
02) I Wanna Testify (4:19) "Testify"
03) Voodoo Chile (11:28)
04) Honeybee (2:27)
05) Couldn't Stand The Weather (5:06)
06) Cold Shot (4:01)
07) Texas Flood (8:02)
Notes and Comments:
Information about
buying radio shows
.
Incorrectly labeled as being recorded in 1989; King Biscuit Flower Hour material, see "In Memoriam" for complete show.
The King Biscuit Flower Hour [DIR Radio Network] was a syndicated radio show that specialized in live performance broadcasts. The "KBFH material" notation on the boot list means "Excellent to superb quality multi-track recordings" of some of Stevie's finest performances.
TO DATE, the main problem with "KBFH" broadcast discs [and their boot CD copies] is that they include only a few songs from each performance. To make matters worse, DIR reissued the same show many times, all with the same track list. There are only two versions of SRV "KBFH" shows. Now the good news! The good folks at Swingin' Pig Records, in their infinite wisdom, have released "In Memoriam" [TSP-CD-205-1,2,3, 3 CD set]. "IM" contains the complete, unedited "KBFH" recordings, including the tracks that were not broadcast on "KBFH." To my ears, this set is without a doubt, some of Stevie's finest moments, both in performance and audio quality.
I'm not sure I'd pay a whole lot for Montreal '89. It's definitely worth $15 bucks though. For that price, you can't go wrong. Montreal '89 was discussed recently and I think the concurrance was that this show is more from the 1985 time frame... you can certainly tell that it wasn't later than that because, as someone pointed out, there are no keyboards therefore no Reese Wynans. The disc is shorter than most... the sound quality is pretty good.
Also very good are Last Farewell 1990 as someone else mentioned, and Montreal 1989. Both of these CDs are live cuts as well. Montreal 89 CD is actually King Bisquit flower hour 1984 Montreal Spectrum.
back to the bootleg cd index