Mega Rare Trax Vol. I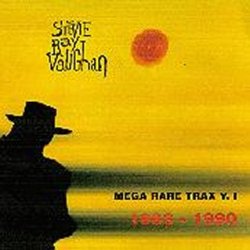 Mega Rare Trax Vol. I - various locations 1983-1990
[Lobster, LOB 035/3] (3CD set) (Italy)
CD 1: (78:20, 14 tracks)
Montreal, (tracks 5-7),
Los Angeles, (The Hollywood Palace) 1983 (tracks 8-11)
Shiba Yubinchukin Hall, Tokyo, Japan (track 12),
Fair Park Coliseum, Dallas, 31-Mar-86 (tracks 13-14)
01) Testify (3:30)
02) Hug You, Squeeze You (3:35)
03) Wham (3:45)
04) Lenny (8:35)
05) Testify (4:22)
06) Little Wing (8:19)
07) Third Stone From The Sun (3:57)
08) Schoolgirl (4:22) "So Excited"
09) Mary Had A Little Lamb (3:30)
10) You'll Be Mine (5:06)
11) Love House (3:30) "Rude Mood"
12) Tin Pan Alley (13:10)
13) Texas Flood (8:03)
14) Pride And Joy (4:34)
CD 2: (79:09, 13 tracks)
Montreal, (tracks 1-3)
Dallas, '85? (tracks 4-8),
Philadelphia, (tracks 11-13)
01) Shuffle (4:57) "Say What"
02) Voodoo Chile (slight return) (11:37)
03) Honey Bee (2:20)
04) Little Sister (4:07) "Look At Little Sister"
05) Change It (4:20)
06) Come On (4:25)
07) Cold Shot (5:38)
08) Love House (4:20) "Thunderbird" (with Jimmie Vaughan)
09) Life Without You (11:27)
10) Willie The Wimp (6:38)
11) Say What (6:39) "Scuttle Buttin'" / "Say What"
12) Superstition (4:28)
13) Couldn't Stand The Weather (8:11)
CD 3: (77:31, 15 tracks)
"Timothy White's Rock Stars ", NY, (tracks 1-4),
Tingley Coliseum, Albuquerque, (tracks 5-8,10,13)
McNichols Arena, Denver, (tracks 9,11,12,14,15)
Austin City Limits, (track 15)
01) Ain't Gonna Give Up On love (1:27) "Ain't Gone'n'Give Up On Love"
02) Scuttle Buttin' (1:56)
03) Jeff's Boogie (1:54)
04) Dirty Pool (3:45)
05) Leave My Little Girl Alone (5:50)
06) House Is A-Rockin' (2:34) "The House Is Rockin'"
07) Tightrope (5:51)
08) Let Me Love You Baby (3:50)
09) Riviera Paradise (10:17)
10) Wall Of Denial (5:45)
11) Superstition (4:50)
12) Cold Shot (6:40)
13) Texas Flood (7:16)
14) Voodoo Chile (slight return) (11:34)
15) Crossfire (4:00)
Notes and Comments:
Important information about
Colorado/New Mexico concerts
and the supposed Auditorium Shores concert.
If you don't have this one, get it now. There is some vintage SRV on this CD and some real mind blowing stuff with surprisingly good recorded quality. I have all three volumes of Mega Rare Trax! I just got them about a month ago, $70 for three CD'S. It's worth the $100 or so, if not for anything other than the Timothy White stuff.
"Mega Rare Tracks, Vol. 1 If you are looking for some superb "unplugged" material, it does not get any better than Timothy White's "Rock Stars" radio show! [Oct '89?] There are has 4 tracks of excerpts from this show. This show was issued on vinyl and the sound quality on the CD is very good. Like the MTV Unplugged material, whoever did the editing should be shot.
I think the best bootleg is Mega Rare Trax Vol. 1 if you can find it. It's a 3-CD set and therefore is a tad salty, but it's got such a variety. It spans recordings from 1983 to 1990, and has an interview with Stevie that, I don't know, makes you feel closer to him 'cause he's just TALKING for about half of it and the acapella version of Dirty Pool is simply exceptional. Most of the cuts are the familiar tunes, different versions of course, because all three CDs are from live appearances, but there's also "Third Stone From the Sun" (outstanding) as well as what's titled "Love House" but I'm not positive that's what the song is-- "...get high everybody, get high... " -- is that "Love House?" (El's note: It's Thunderbird.) Whatever, this is the CD I recommend.
I really like the Timothy White sessions with SRV on solo electric and vocals. It is amazing. But you'll have to buy the 3 CD set "Mega Rare Trax" to get it. The rest of Mega RT is good but not a killer.
3 CD set "Mega Rare Trax" MRT is definitely worth buying.
An awesome version of Superstition.
The dates for Mega Rare Trax are:


El Mocambo, Toronto, Canada 1983 (4 songs)
Music Hall Philadelphia,PA 1983 (3songs)
Los Angeles, CA 1984 (4 songs)
Tokyo, Japan Jan 24, 1985 (tin pan alley/dirty pool)
Dallas, Texas 1985 (2 songs)
Montreal, CA 1985 (4songs)
Dallas Texas 1986 (5 songs)
Philadelphia, PA (Mann Music Center) 1987 (2 songs)
Italy (Pistola Blues Festival) July 1988 (3 songs)
Timothy White Session N.Y. Oct.23, 1989 (4 songs)
Albuquerque, New Mexico Nov 1989 (one song)
Houston, Texas 1990 (9 songs)
Austin, Texas 1990 (1 song)
As for the actual dates (sorry I didn't do that the first time around)
El Mocambo July 11, 1983
He was in Philly Oct 19 and 20 of 1983
Los Ang June 16, 1984
Tokyo Jan 24,1985
Philly Oct 12,1987 (Mann Music Center)
Albuquerque Nov 30,1989
This is the list as shown on the back of the Mega-Rare Trax CD package. I do not know about all of these shows, but I do know for a fact that No. 12 is not Houston, 1990. For those of you who have Colorado/New Mexico, Hello Ya'll, or all those other recreations of that same show...guess what...you guessed it, here it is AGAIN. Don't know if Houston, 1990 is the Albequerque or the Colorado show, but it's one of them. The tell-tale sign for me is when SRV asks the audience... 'Ya'll like Buddy Guy...I sho' do' and then launches into a Buddy cover.
As far as the actual Mega Rare Trax dates, I can clarify one date: the songs listed as 16th June 16 Hollywood Palladium are NOT from that show (I was there). They are from a radio broadcast from the Palace Theatre in LA in 1983, I am uncertain of the exact date. I am 100% certain that these songs are not from June 16.
back to the bootleg cd index