Live In Montreux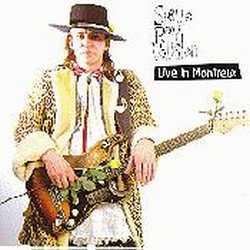 Live In Montreux - Montreux Jazz Festival, Montreux, Switzerland
[Swingin' Pig, TSP-CD-135] (Luxembourg) (50:24, 7 tracks)
with Johnny Copeland (tracks 4-7), excellent sound quality
same date as
Pride And Joy [On Stage Records]
,
Stevie Played A Little Blues
01) Ain't Gone'n'Give Up On Love (8:31)
02) Sweet Little Thing (5:13) "Pride And Joy"
03) Mary Had A Little Lamb (4:11)
04) Cold Shot (5:41)
05) Don't Stop By The Creek, Son (4:36) (Johnny Copeland on lead vocal)
06) Tin Pan Alley (14:12)
07) Look At Little Sister (8:00)
Notes and Comments:
There are 3 SRV live at Montreux Jazz Festival CD's; one from 1982 and two from 1985. All 3 are excellent quality soundboard recordings.
CD of SRV at Montreux 1982: The sound quality on the CD is 100 times better than the video anyway. Stevie's response during the whole gig resulted in one of his meanest and tuffest sets ever!
Excellent sound quality
excellent quality soundboard recordings.
prime SRV. The sound quality on both is excellent "LIM" is a little "brighter than on Cold Shot [Discurios]".
To me, using a slide is one area that SRV was phenomenal at, but didn't do hardly at all. SRV does Gimme Back My Wig and it's awesome and intense.
back to the bootleg cd index