Let Me Love You Baby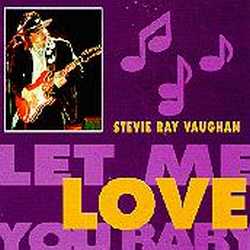 Let Me Love You Baby - McNichols Arena, Denver, CO
[Big Music, BIG 062] (Italy, 1993) (74:11, 12 tracks)
The track order on the CD cover is incorrect, the track names as listed on cover are in the order of tracks 8-12 and 1-7 below
same date as:
Brotherly Love
,
Colorado & New Mexico
,
Cold Shot (Vol 4)
,
Crossfire
,
Hello Y'All
,
In Steppin'
,
Last Farewell
,
One Of The Last
01) The House Is Rockin' (2:35)
02) Tightrope (5:34)
03) Look At Little Sister (5:41)
04) Let Me Love You Baby (3:13)
05) Texas Flood (7:14)
06) Leave My Little Girl Alone (6:08)
07) Riviera Paradise (10:17)
08) Wall Of Denial (5:46)
09) Superstition (4:52)
10) Cold Shot (7:13)
11) Crossfire (4:01)
12) Voodoo Chile (Slight Return) (11:31)
Notes and Comments:
Important information about
Colorado/New Mexico concerts
and the supposed Auditorium Shores concert.
Must haves in one version or another.
Discs of the Westwood one 89 broadcast are numerous, I recommend "Last Farewell" or "Let me Love you Baby" for sound quality compared to the others.
a killer CD; an awesome boot (killer version of Let Me Love You Baby (Buddy Guy)
A "very" good concert. I have the CD - it's subtitled "Stevie Ray Vaughan Seattle 1985 Live" (featuring Bonnie Raitt). One of my favorites.
At least 3 boots, and probably more, incorrectly identify the Colorado/New Mexico show as Auditorium Shores, so there has been confusion over this show.
On the different boot CD's of the C/NM show, there are different tracks. Each omits one and has another and/or print the set list in different order so that the discs do not appear to be the same show, but they are. Scuttle Buttin', Last Farewell, and Let me Love You Baby are examples.
When the Colorado/New Mexico boots came out, there were posts that implied these were complete soundboard recordings of both shows. However (correct me if I am wrong) they were not. I had the set lists emailed to me and they were the same old C/NM combination. The New Mexico show was quite long and would take 2 CDs by itself. The Colorado show was not as long, but still would not fit on a single CD. The audience recordings of both shows are not outstanding. So, any quality recording is likely to be from one of these boots or the original fm broadcast.
back to the bootleg cd index