The Last Live Show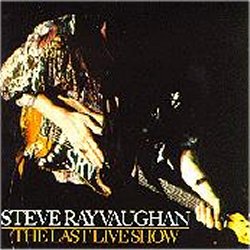 The Last Live Show - Alpine Valley, East Troy, WI
[Last Bootleg Records, LBR 039/2] (2CD, picture discs)
CD 1: (46:01, 9 tracks) CD 2: (47:36, 6 tracks)
Below average audience recording
Same date as
Going Down
CD 1)
01) Testify (4:26) "Collins Shuffle"
02) The House Is Rockin' (2:58)
03) Tightrope (5:34)
04) The Things That I Used To Do (4:56)
05) Let Me Love You Baby (3:23)
06) Leave My Little Girl Alone (5:20)
07) Pride And Joy (4:27)
08) Wall Of Denial (6:04)
09) Riviera Paradise (9:17)
CD 2)
01) Superstition (6:53)
02) Couldn't Stand The Weather (4:47)
03) Going Down (6:05)
04) Crossfire (4:15)
05) Voodoo Chile (12:05)
06) Sweet Home Chicago (15:19)
Notes and Comments:
This discussion has not been totally resolved yet. The first track on "The Last Live Show", although listed as "Testify" is not "Testify," "In The Open," or "Tore Down." As was mentioned previously, this instrumental is also listed as "Stevie's Boogie" on other boot titles. It is an old Albert Collins tune called "Collins Shuffle."
The subject of "The Last Show" keeps coming up, but SRV and DT did "Goin' Down" during the last show at Alpine Valley. This song smokes and for anyone lucky enough to have seen SRV the last night, I'm sure that his guitar was smoking during this song. It was the fourth to last song SRV played in his life, and it is worth a major portion of the $40 plus price of this two disk set, IMHO.
back to the bootleg cd index