Jammed Together Texas Style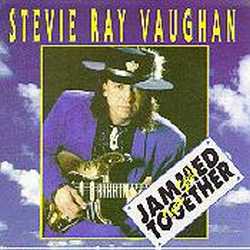 Jammed Together Texas Style - with Albert King, CHCH Studios,
Hamilton, Ontario, Canada
[Why Not, WOT1004] (44:42, 7 tracks)
Incorrectly listed as having been recorded in Los Angeles
CD of "In Session" video, same date as
Let It Happen
and
Triple Trouble
01) Texas Flood/Stormy Monday Blues (12:53) (splice) ("TF"=4:29,"SMB"=8:24)
02) Matchbox Blues (6:21)
03) Instrumental Jam 1 (2:11)
04) Instrumental Jam 2 (1:31)
05) Pride And Joy (6:04)
06) Ask Me No Questions (4:58)
07) Outskirts Of Town (10:42)
Notes and Comments:
Classic! A "must-have" for the Stevie enthusiast. What the list did not mention here is that this is SRV & DT with "Albert King"! Albert, besides being one of the absolute greatest, is such a gem on this recording. To hear Albert and Stevie talking between cuts is enough to bring a tear to the eye, and a warmness to the soul.
Quality comparable to a studio release or an 'official' live album. Has good mixing, no tape hiss, good production.
If you like the roots of SRV..."Jammed Together" with Albert King is good.
Just a warning to add to the bootlist duplicate title: Stevie Ray Vaughan Triple Trouble With AlbertKing and Buddy Guy on the [Smokin Cactus sc003] label. Same as "Jammed Togther" and "Let it Happen" except there are three additional tracks on the end with Buddy Guy
back to the bootleg cd index