In The Open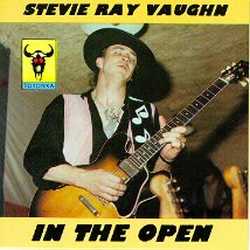 In The Open - live material, no specific venue or date indicated
[Totanka, CDPR020] (1996) (64:07, 14 tracks)
Probably recorded at the KFAT "Fat Fry", Gilroy, CA
All tracks have Jack Newhouse on bass and Chris Layton on drums.
Lou Ann Barton handles vocals on tracks 4-10.
Track 14 includes Robert Cray on guitar and Curtis Salgado on harmonica.
01) Pride And Joy (4:03) (slower version than normal)
02) Love Struck Baby (2:59)
03) Wham (2:23)
04) You Can Have My Husband (3:47)
05) Ti Na Ni Na Nu (3:20) "Tina Nina Nu"
06) Maybe (4:05) "Oh Baby"?
07) Oh Yeah! (3:22)
08) Sugar Coated Love (3:50)
09) I'll Change (4:17)
10) Hip Hip Baby (2:37)
11) Collins Shuffle (5:22)
12) In The Open (4:03)
13) Open Arms (4:35) "Empty Arms"
14) Tin Pan Alley (15:22) (awsome version with Robert Cray)
Notes and Comments:
According to Craig Keyzer's collector's list, Robert Cray performed with the early version of Double Trouble at Fat Friday, Gilroy, CA., 20aug79. I don't know if the material above is from that same show or not, so I'd like for somebody who has the Fat Friday show on tape to do a comparison with this title and see if they might be the same. The material above is super clean so it may be from the radio broadcast of the Fat Friday show from that time.
back to the bootleg cd index