In Italy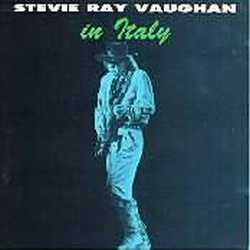 In Italy - Pistoia Blues Festival, Pistoia, Italy
[Beech Marten, BM033] (Italy, 1992) (54:25, 10 tracks)
same as
Cold Shot (Vol. 3)
on Banana.
01) Intro (2:06) "Scuttle Buttin'"
02) Say What (5:04)
03) Looking At Your Window (4:09) "Lookin' Out The Window"
04) Little Sister (3:59) "Look At Little Sister"
05) Mary Had A Little Lamb (7:10)
06) Pride And Joy (5:08)
07) Texas Flood (7:46)
08) Superstition (4:30)
09) Willie The Wimp (6:19)
10) Couldn't Stand The Weather (8:12)
Notes and Comments:
The (sound) quality is very good.. The playing! What great concerts! Subtle, jazzy sometimes, excellent! Pure fun to listen to.
The song Mary Had a Little Lamb, on In Italy is a huge version. Stevie plays around with this song, stretching limits every way. Very original phrasing.
Worth it to buy it. It's even better than I expected!
Track-by-track comments: The "Scuttle Buttin'/Say What" intro is intense! It is the best version of these two songs I have yet heard; "Lookin' out the Window" and "Look at Little Sister," which often don't translate well when played live, sound quite good here, and Stevie's guitar work at the end of "Sister" is sublime; "Mary Had A Little Lamb" is so different than any other version I have heard, that I was taken aback when I first heard it - Stevie has a great time, plays real slow, then suddenly real fast, but always with consumate grace and power: fantastic!; "Pride and Joy" is also different than most versions: Stevie has a great time and ends the tune with a superb solo; "Texas Flood" is a blistering masterpiece: enough said!; "Superstition" and "Willie the Wimp" are fairly standard here, which is to say, quite good; "Couldn't Stand the Weather" is a joy: everybody plays great and Stevie ends the tune with explosive power.
The sound is quite good and it is really too bad that more stuff from 1988-1990 hasn't been transcribed to CDs. Pick it up if you see it!!!
the best version of Couldn't Stand the Weather I have heard
back to the bootleg cd index