Hound Dog Man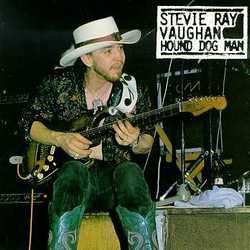 Hound Dog Man - Memorial Auditorium, Burlington, VT 18-Nov-85
[Flashback World Productions, FB 11.96.0281] (1997) (73:16, 12 tracks)
Memorial Auditorium, Burlington, VT (tracks 1-8)
From Lonnie Mack's "Strike Like Lightning" (tracks 9-11)
From Doyle Bramhall's "Bird Nest On the Ground" (track 12)
Cover erroneously indicates a date of 31-Oct-85 for the Burlington material.
01) Ain't Gone 'N' Give Up On Love (8:05)
02) Pride And Joy (4:51)
03) Love Struck Baby (3:32)
04) Tin Pan Alley (12:21)
05) Look At Little Sister (4:24)
06) Voodoo Chile (13:36)
07) Cold Shot (6:42)
08) Couldn't Stand The Weather (4:14)
09) If You Have To Know (4:23) (from Strike Like Lightning)
10) Hound Dog Man (4:00) (from Strike Like Lightning)
11) Satisfy Suzie (4:26) (from Strike Like Lightning)
12) Too Sorry (2:41) (from Bird Nest On The Ground)
Notes and Comments:
An excellent quality CD, one that you play on your decent hi-fi, HOWEVER the mix drifts on a number of the tracks and SRV's guitar is pushed into the background on some of the live tracks. This starts part way through the first track, "Ain't Gone'n'Give Up on Love" which also has a glitch at 4.37. Fortunately the longest tracks, Tin Pan Alley, and Voodoo Chile (Slight Return) which are excellent quality do not suffer from this mixing problem. Voodoo Chile also includes Power of Soul with SRV throwing in some of the lyrics.
back to the bootleg cd index