Hawk On Fire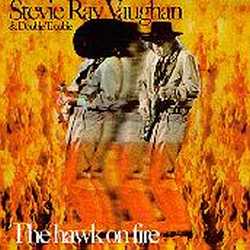 Hawk On Fire - Live at the El Mocambo, Toronto, Canada
[Baby Capone, BC014] (79:19, 15 tracks)
Excellent soundboard recording
Same as
G-Ray
PLUS: "Little Wing", "You'll Be Mine", "Love House"
"Little Wing" has been confirmed to be from the El Mocambo show
"You'll Be Mine" and "Love House" (Rude Mood) were recorded in Los Angeles (The Hollywood Palace), 1983.
01) Testify (3:37)
02) So Excited (4:07)
03) Voodoo Chile (6:44)
04) Pride And Joy (4:30)
05) Tell Me (3:04)
06) Mary Had A Little Lamb (3:15)
07) Texas Flood (9:53)
08) Love Struck Baby (2:42)
09) Hug You Squeeze You (3:46)
10) Third Stone From the Sun (7:07)
11) Lenny (8:45)
12) Wham (4:49)
13) Little Wing (8:29)
14) You'll Be Mine (5:08)
15) Love House (3:27) "Rude Mood"
Notes and Comments:
"El Mocambo" [July 1983] is available on two different CD's: "G*Ray" and "The Hawk On Fire." Both are excellent quality. "Hawk on Fire" has 3 extra tracks that are not on the video: Little Wing, You'll Be Mine, Love House.
excellent sound
Has both a great show and great sound quality. Three Jimi tunes including a smokin' "Little Wing." Over 79 min of music - this is a must have.
"Little Wing" on "Hawk On Fire" isn't the version Stevie originally performed at El Mocambo. The version is from 10-20-83 Ripley's Music Hall!
As far as I know, the only boot known that contains Stevie's "Little Wing" from El Mocambo is "Accolades".
Information about
buying radio shows
.
back to the bootleg cd index