Guitar Boogie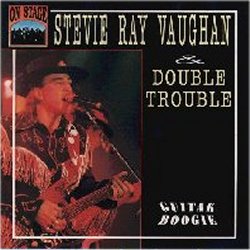 Guitar Boogie - Steamboat 1874, Austin, TX
[On Stage Records, CD 12042] (58:45, 13 tracks)
Same date as:
At the Steamboat 1874
,
Don't Mess With Texas
,
Homage To The Blues
01) Love Struck Baby (2:57)
02) Tell Me (2:57)
03) Rocking Daddy (3:57) "Shake For Me"
04) The Sky Is Crying (5:22)
05) Guitar Boogie (3:15) "They Call Me Guitar Hurricane"
06) Dust My Blues (2:44) "Slide Thing"
07) Tin Pan Alley (8:06)
08) All Your Love I Miss Loving (6:12)
09) I'm Leaving You (Commit A Crime) (4:56)
10) Little Wing (4:47)
11) I'm Crying (3:57)
12) Tore Down (3:58) "Collins Shuffle"
13) Stevie's Blues (5:37) "In The Open"
Notes and Comments:
My fav boot is "Guitar Boogie" 1978 Austin. Killer old SRV doing some of my favorite tunes like Freddie King's "Tore Down."
Hate to tell you this but most of that album (Guitar Boogie) is the Steamboat 1980 concert commercially released. Different song order and recorded at a slower speed. Check it out yourself. Stevie never played the same way twice. On these 2 CD's he does. It does contain 4 songs that are not on the steamboat CD though.
I have Guitar Boogie and it was recorded in Austin in 1978 and the quailty is so-so. I can't remember the actual price I paid but it was no more than $15.00 But it does have "Rockin' Daddy" on it, it kicks major ass.
I think that Guitar Boogie is the same as In The Beginning, only with extra bonus tracks. I got a tape of this recently, thinking it was something that I didn't already have, and discovered that this was a crappy recording of In the Beginning (commercial version) and Don't Mess With Texas (bootleg). If the tape is any indication of the sound quality of the Guitar Boogie disc, DEFINITELY do not buy Guitar Boogie, but do buy Don't Mess With Texas. The sound quality difference is night and day.
back to the bootleg cd index