Good Vibes At The Spectrum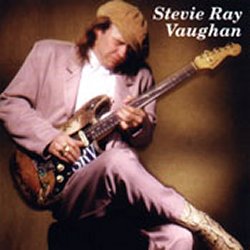 Good Vibes At The Spectrum - The Spectrum, Montreal, Canada
and Reading Rock Festival, England
[Midnight Beat, MB 082] (Luxembourg) (78:59, 15 tracks)
Montreal - (tracks 1-7), Reading - (tracks 9-15)
Track #8 has been verified to be from Alpine Valley, WI, and appears to have been culled from Santana's "Sacred Sources 1
Live Forever" release which contains this track from Stevie's final show.
Incorrectly labeled as having been recorded in Montreal, 1983.
01) Shuffle (4:54)
02) Voodoo Chile (11:38)
03) Honey Bee (2:19)
04) Mary Had A Little Lamb (3:28)
05) Couldn't Stand The Weather (4:58)
06) Cold Shot (4:11)
07) Pride And Joy (4:38)
08) Riviera Paradise (9:02)
09) Testify (4:14)
10) So Excited (4:59)
11) Voodoo Chile (Slight Return) (7:02)
12) Pride And Joy (4:07)
13) Mary Had A Little Lamb (3:13)
14) Love Struck Baby (2:46)
15) Texas Flood (7:30)
Notes and Comments:
Killer sound and a great performance. Because the sound is so good, you hear all the little details very well. I love it. Very powerful show.
Someone gave this CD a really good review, and I agree that the "Spectrum" tracks are good. However, I think everyone should now that the songs on that CD, from the Reading Rock Festival, are WAY fast. Definite speed problem there--sounds like a Chipmunk tribute to SRV!
As already recognised, the Reading material runs 8% to 10% fast. Also note that there is a glitch in Texas Flood that is not there on the 59 Fender Stratocaster. Another Midnight Beat error - what a shame.
back to the bootleg cd index