Gone Fishin'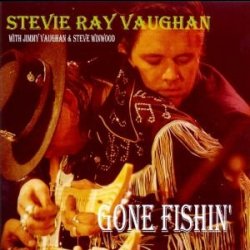 Gone Fishin' - Pier 84, New York
[Massive Attack MA990004/5] (1999) (2CD) (CD-R Format)
CD 1: (64:05, 12 tracks)
Pier 84, New York, NY
with Jimmie Vaughan and Steve Winwood
01) Scuttle Buttin' (2:16)
02) Say What (5:29)
03) Ain't Gonna Give Up On Love (9:44)
04) Looking Out the Window (4:33)
05) Look At Little Sister (5:01)
06) Mary Had A Little Lamb (4:15)
07) Pride and Joy (3:19)
08) Voodoo Chile (9:23)
09) Come On (5:02)
10) You'll Be Mine (3:48)
11) Cold Shot (5:23)
12) Couldn't Stand The Weather (5:52)
CD 2: (50:37, 7 tracks)
Pier 84, New York, NY, (tracks 1-3)
Antone's, Austin, TX, (tracks 4-6)
01) Life Without You (13:03)
02) Pipeline/Rude Mood (6:24)
03) Love Struck Baby (4:22)
04) Scuttle Buttin' (3:14) "So Excited"
05) Things I Used To Do (7:05)
06) Pride and Joy (4:14)
07) Dirty Pool (12:15) "Tin Pan Alley"
Notes and Comments:
Gone Fishin' is a well balanced audience recording with very good to excellent sound quality. Stevie's guitar is up front and his vocals are very clear.
The 2 CD set is an excellent CD. The show is excellent and the sound is clear. It is an audience recording with some slight crowd noise, but the levels on the vocals and music are high enough that without the audience noise, you might mistake this for a soundboard recording. This is the only performance live of "pipeline" that I know of.
back to the bootleg cd index