Force Of Nature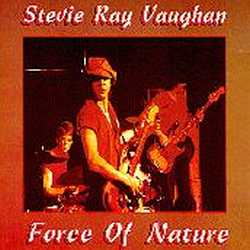 Force Of Nature - Fitzgerald's Club, Houston, TX
[Whoopy Cat, WKP-0014/15] (2CD) (possibly out of print)
CD 1: (67:19, 11 tracks) - CD 2: (72:51, 13 tracks)
Excellent "audience" recording
CD 1)
01) Boilermaker (6:04)
02) Close To You (4:25)
03) Tell Me (4:15) "You'll Be Mine"
04) Let Me Love You (11:10) "Done Lost Your Good Thing Now"
05) Day I'm Gone (4:41) "Empty Arms"
06) Slide Thing (3:21) (Not listed on track titles)
07) I'm Leavin' You (11:59) "I'm Leaving You (Commit A Crime)"
08) Texas Flood (6:31)
09) Rude Mood (4:39)
10) Don't Lose Your Cool (4:58)
11) Thunderbird (5:17)
CD 2)
01) The Sky Is Crying (7:11)
02) I'm Crying (4:55)
03) Crosscut Saw (4:31)
04) Shake For Me (5:08)
05) Wham (4:24)
06) Hideaway (5:06)
07) Instrumental (3:31) "So Excited"
08) Pride And Joy (5:11)
09) Tin Pan Alley (11:44)
10) Love Struck Baby (3:56)
11) Tell Me (5:07) "May I Have A Talk With You"
12) Little Wing (6:27)
13) Manic Depression (5:37)
Notes and Comments:
Force of Nature was recorded at Fitzgerald's in Houston Fitzgerald's in Austin on 14-Oct-81. It's one of the best "audience recordings" I've heard. SRV does a version of BB's "Done Lost Your Good Thing Now" that knocks me to my knees everytime I hear it. The songs include "Boilermaker," "Close to You," "Slide Thang," "P&J," "Texas Flood," "Tin Pan Alley," and several others, including Albert's "Crosscut Saw." Definitely worth it if you can find it (2 CD set).
Rating: ****, Length: 180 min
well worth having
If you don't have "Force Of Nature" you better pick it up. Recorded at Fitzgerald's in Houston, an excellent example of how SRV sounded in the early days. Get it! Both FON and FON2 are great shows. The performances are vintage Stevie and the sound quality is pretty good too.
This show is great. Lots of blues and Hendrix, Great setlist and great playing. another great early show. sound is very good.
I have played FON almost every day for the last 6 months.
Excellent sound and you can here the comments of the audience, just like you are sitting right there. The passion he creates during "Lost Your Good Thing Now" compares to 'Texas Flood' on "El Mo". His version of 'Manic Depression' gives me goosebumps ever time I listen to it. Definitely a 'Must Have'
Hot performances, lots of blues.
I just recently bought a copy of Force of Nature and it blew me away. This is by far the best sounding boot I have ever heard with most of my favorite songs that SRV does. He does a few that I'm sure he didn't perform that much like: Albert Collins "Don't Lose Your Cool", Albert Kings "Crosscut Saw", Jimi Hendrix "Manic Depression" and a ten-minute version of BB Kings "Done lost your good thing now" that absolutely smokes and is now probably one of my fav SRV tunes. I highly recomend you if you don't already have this one to go out and get.
back to the bootleg cd index