First Thunder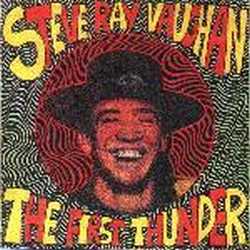 First Thunder - Austin, 1979
[Seagull, SEA 039] (Italy) (59:00, 16 tracks) (above average quality)
Soundcheck, Austin, (tracks 1-6),
Austin Blues Festival with Lou Ann Barton (tracks 7-13),
"Peona's", Austin, TX with Lou Ann and Johnny Reno on Sax (tracks 14-16)
Although tracks 7-13 are claimed to be from the "ABF", there are no noticeable live audience sounds on these tracks, so venue is suspect.
01) Rude Mood (2:53)
02) Dirty Pool (5:20)
03) I'm Crying (3:43)
04) You're Gonna Miss Me Baby (2:49) "Empty Arms"
05) Pride And Joy (3:14)
06) Love Struck Baby (2:12)
07) Natural Born Lover (3:44)
08) Tina Nina Nu (3:00)
09) Scratch My Back (4:06)
10) I'll Change (3:18)
11) Shake A Hand, Shake A Hand (4:39)
12) Oh Baby (3:43)
13) Sugar Coated Love (3:41)
14) Love In Vain (4:31)
15) You Can Have My Husband (5:18) (starts off with "So Excited")
16) My Baby's Gone (2:49) "Oh Yeah"
Notes and Comments:
The audio quality on "TFT" is very good and one of the best early SRV [pre Chris L. and Tommy S.] live recordings. "Te-Ni-Nee-Ni-Nu" were made popular by the late great bluesman Slim Harpo.
A wonderful boot CD. The first six or seven tracks are early studio demo versions of many Texasflood album standards. The highlights of the disc IMHO, however, are the seven or so demo tracks where SRV plays and Lou Ann Barton sings. Believe me when I tell you this, and this disc proves it, the original incarnation of Double Trouble was HOT. Lou Ann could melt paint off the walls with her live voice! There are many songs that Lou Ann eventually put on her release "Read My Lips". Of course, RML was released much later and without SRV on guitar. It's very good but doesn't hold a candle to the cuts on The First Thunder.
The disc closes with a few of live tracks of SRV and Double Trouble at Peonas with Johnny Reno on saxophone. I think that was an Austin bar back in the 70's.
The value of this disc is not truly recognized until you read eitherof the SRV biographies. It's just wonderful to hear these tracks after reading about the early days of Double Trouble...this is when they were just making music to have fun...everyone screwed everyone else, just for something to do...SRV didn't give a crap whether anyone liked his music or not, cause HE liked it. I just think this is a wonderful recording and all of you avid fans owe it to yourself to get your hands on this.
Lou Ann's songs are killer
With the exception of this and a few other CDs, I have yet to see a bootleg CD for which there was not a better sounding analog cassette recording available.
I finally got the chance to compare the Nashville '78 recording with First Thunder. When you A/B these recordings it is fairly obvious on most tracks that they are not the same (lyric differences, SRV solo differences, etc). On the other tracks, where the differences are a little more subtle, if you follow the drummer it becomes clear that these are indeed different recordings.
Pier 83 is a great version of Rude Mood, but then I reckon they're all great! Some days the fast aggro versions make my hair stand up on end , some days the acoustic version (MTV) does it for me but a real fave is the early version: on the 1979 First Thunder boot. This country/rockabilly laid back version has the joy of life written all over it; guaranteed to put a smile on your face. Stevie must've got a real buzz playing this one in the clubs.
back to the bootleg cd index