Don't Mess With Texas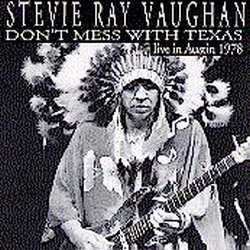 Don't Mess With Texas - Steamboat 1874, Austin, TX
[Triangle Records, PYCD 062] (1991) (65:17, 14 tracks)
More complete version of "In The Beginning", Jackie Newhouse on bass
Excellent sound, incorrectly dated as "Live in Austin 1978"
Also issued in limited edition deluxe box with t-shirt and badge.
Same date as::
At the Steamboat 1874
,
Guitar Boogie
,
Homage To The Blues
01) Stevie's Blues (5:37) "In The Open"
02) Dust My Blues (3:00) "Slide Thing"
03) Guitar Boogie (3:18) "They Call Me Guitar Hurricane"
04) The Sky Is Crying (5:20)
05) I'm Leaving You (Commit A Crime) (4:52)
06) All Your Love I Miss Loving (6:12)
07) Tin Pan Alley (8:07)
08) Love's Struck (2:53) "Love Struck Baby"
09) Tell Me (2:57)
10) Rocking Daddy (3:57) "Shake For Me"
11) Little Wing (4:52)
12) Tore Down (4:03)
13) I'm Crying (3:53)
14) Texas Flood (6:11) (not complete, fades out)
Notes and Comments:
It is fantastic (I love the early stuff!). It has the best version of Tin Pan Alley that I have heard.
I do have Don't Mess With Texas and I like it a lot. It is an improvement over the commercial CD (IMHO). It IS more complete than Guitar Boogie (it contains a "cut" version of Texas Flood).
I only have this one and it sounds pretty good to me. I especially like the extra songs that are on it over "in the beginning."
I like the "Don't mess with texas" boot, but the best recording is a tape of the actual radio broadcast which has more tone than any of the boot CD's that have come out and more songs than Sony's release.
back to the bootleg cd index