Come On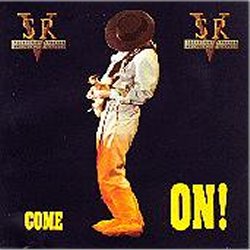 Come On - Mann Music Center, Philadelphia, PA
[Beech Martin, BM027] (Italy) (77:33, 13 tracks)
Incomplete, missing "Rude Mood" (as found on
Look At Little Stevie
and
Unforgettable Night
)
Same as
Cold Shot (Vol 2)
Same date as:
Soul Love
01) Intro (3:09) "Scuttle Buttin"
02) Say What (5:31)
03) Looking At Your Window (4:33) "Lookin' Out The Window"
04) Little Sister (4:48) "Look At Little Sister"
05) Mary Had A Little Lamb (5:55)
06) Texas Flood (9:28) "Ain't Gone'n'Give Up On Love"
07) Superstition (4:37)
08) Willy The Wimp (6:45)
09) Cold Shot (5:44)
10) Couldn't Stand The Weather (8:35)
11) Life Without You (12:40)
12) Come On (4:28)
13) Love Struck Baby (1:20) (listed as 3:08, premature fade-out)
Notes and Comments:
Another shining example of his guitar-slingin' prowess. *GREAT* sound quality on this one -- sounds to me as if it came straight off the mixing board.
This is astounding... soundboard quality, the most charged performance I've heard.
Philadelphia live show on the boot is way better than "Live Alive" (and has much of the same material) - unfortunately it is a soundboard recording and is not releasable quality.
SRV was on fire that night. Sound quality is incredible.
Favorite SRV CD-Boot: Hands down, "Come On" - everything that "Live Alive" should have been. Basically the same set list, but one HELL of a show.
I have a ton of SRV boots and here is my critique... To me, the best live boot is "Come On." Incredible performance, great sound. It's actually my fave boot - period.
This is a boot of excellent quality
"Come on" (Philly 87, great show) and "Cold Shot" (Montreux 85) are both cool (I especially dig "Ain't Gone n Give Up On Love"), but you can find audio recordings on cassette that put the CD to shame.
back to the bootleg cd index