City Of Lights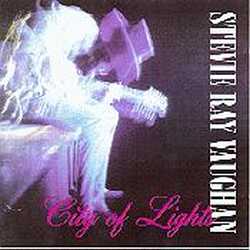 City Of Lights - Greek Theater(?), Los Angeles, CA
[Hawk Records, HAWK061] (Italy) (70:59, 10 tracks)
Excellent sound quality.
01) Pride And Joy (6:32)
02) You'll Be Mine (5:35)
03) I'm Leaving You (Commit A Crime) (7:17)
04) Let Me Love You, Baby (4:13)
05) Leave My Little Girl Alone (6:24)
06) Superstition (4:53)
07) Willie The Whimp (5:35) "Willie The Wimp"
08) Cold Shot (6:21)
09) Couldn't Stand The Weather (12:42)
10) Life Without You (11:27)
Notes and Comments:
I think its a good boot that is often overlooked. It includes a 24-25 minute take on Couldn't Stand the Weather and Life Without You. During a break in CSTW, Stevie talks about meeting each member of Double Trouble as he introduces them.
Each member of Double Trouble (including Reese) does a solo as Stevie introduces them and talks about meeting each of them (during Couldn't Stand the Weather).
About the sound quality, it was poor to me, but it's difficult to compare, because I'm not used to bootlegs. It was recorded from the audience, of course, and at moments it's difficult to hear SRV's guitar, but in general the music is audible with keyboards, drums and bass. The energy is great, as with all SRV live shows.
back to the bootleg cd index