Chicago Blues Festival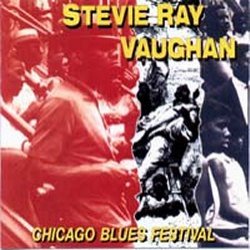 Chicago Blues Festival - Grant Park
[Unbelievable Music, UM 025] (Italy, 1993) (65:20, 11 tracks)
Chicago (tracks 1-8), Saturday Night Live, (tracks 9-10),
"BB King & Friends" TV special (track 11)
Chicago show also on
Burnin' Strings
,
Pride And Joy
,
Stevie Played A Little Blues
01) Scuttle Buttin' (3:09)
02) Say What (5:24)
03) Ain't Gonna Give Up On Love (8:05) "Ain't Gone'n'Give Up On Love"
04) Voodoo Chile (8:13)
05) Mary Had A Little Lamb (3:50)
06) Texas Flood (11:56)
07) Come On (5:02)
08) Testify (2:26)
09) Say What (4:50)
10) Change It (4:54) (with Jimmy Vaughan)
11) The Sky Is Crying (7:15) (with Albert King, B.B. King, Paul Butterfield, & Phil Collins)
Notes and Comments:
Have any of you who own this boot ever noticed that track six is entitled Texas Flood, and Stevie even sings the lyrics to Texas Flood, but plays Ain't Gone 'N' Give Up On Love? Wow! I've never notice how closely connected the two songs are. But there is no doubt, he's playing AGNGUOL, and not TF. Strange to say the least.
Concerning the Texas Flood cut from the 85 Chicago Blues Festival, I can assure you he was playing Texas Flood and not Ain't Gone'n'Give Up On Love. I was there in 85 and remember it well and I also have the recording of that performance. He just simply slowed it down a bit. As you know, there are a number of signature licks he uses time and again on many songs, and since they are both similar slow blues numbers, there are many licks that are interchangeable between those two particular songs. Hope this helps. Mark
back to the bootleg cd index