'59 Fender Stratocaster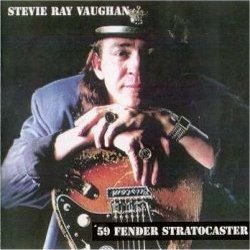 '59 Fender Stratocaster - Various Locations
[No label indicated] (1999, 16 tracks) (74:05) (CD-R format)
CBS Record Convention, Honolulu, HI 19-Mar-84 (tracks 1-4) (with Jeff Beck, Angela Strehli (vocals) and Jimmie Vaughan)
Apollo Theater, Manchester, England 22-Jun-88 (tracks 5-9)
Reading Rock Festival, England 27-Aug-83 (tracks 6-13)
01) T. Bone Shuffle (3:57) "Wham" (with J Beck)
02) Texas Blues (2:26) "Hawaiian Eye" (TV Theme) (with J Beck)
03) Last Call (3:28) "Lost Cause" (with J Beck, A Strehli, J Vaughan)
04) Beck's Boogie (4:59) "Jeff's Boogie" (with J Beck)
05) Tell Me (2:50)
06) I'm Leaving You (Commit A Crime) (5:42)
07) Pride and Joy (5:06)
08) Texas Flood (7:03)
09) Love Struck Baby (3:59)
10) Scuttlebuttin' (4:34) "Testify"
11) Testify (5:30) "So Excited"
12) Voodoo Chile (Slight Return) (7:35)
13) Pride and Joy (4:35)
14) Mary Had A Little Lamb (3:29)
15) Love Struck Baby (3:06)
16) Texas Flood (5:47)
Notes and Comments:
Awesome Import CD!! This is a VERY RARE Import and hard to find!!! Sound quality A+!!!
The first 5 songs on this CD are of poor recording and it sucks cause those songs are the one Jeff Beck is on. I was a little disappointed when I got this cause JB was the reason I got it, but if you listen real loud they do an awesome rendition of Jeff's Boogie.
This does not look like a CDR -- as stated in the review details. as the artwork and picture disk are pretty good for a bootleg! I have had no problem copying this to CDR so there could well be proper CD's and CDR's out there -- what a surprise! However there are a number of failings on the Reading material that should be noted. There is a small cut on Pride and Joy -- which I have not noticed on other SRV Reading CD's and Texas Flood runs out of time and is thus incomplete. Also when you play it through a decent hi-fi you start to notice that there is a slurring on the sound from the drums, which becomes increasingly more annoying the more you notice it. This does run at the correct speed unlike the Good Vibes at the Spectrum (Midnight Beat) CD.
This is a CDR, so I wouldn't pay too much for it if I were you. The sound is fairly good, but definitely not excellent. I believe that tracks 1-4 originated from a video source. Tracks 5-16 can be found on a (silver disc) "import" CD called Reading '83. This is yet another example of someone making a cheap (homemade) CDR from other bootleg sources in order to make a quick buck...happens all the time these days.
From a collector's standpoint, this CDR is not worth much at all. From an SRV fan's perspective, it IS good music and the sound IS decent, so it might be worth a little more. I wouldn't give more than about $15 for it myself. Better yet, join the tape tree and put your money into blanks and postage (a much better investment).
back to the bootleg cd index